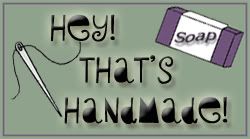 Hello, fellow handmade stuff lovers! This week, I will be featuring "outoftheboudoir", an Etsy shop owned by a sweet and gorgeous woman named Nelly. When asked about her shop, Nelly said:



"

I opened my Etsy shop about five months after Etsy made its debut under the name Shabby Boudoir. Two years later, and about two months ago I decided to go to my pre-Etsy name, Out of the Boudoir. For me, a boudoir is a very private cherished place that we can call our very own, therefore what you see in my shop comes from a very special place within me, my creativity. Through my shop and future website I want to share my love of sewing, my love for the home and all things vintage, so I hope to incorporate all of these aspects harmoniously and bring them to the public."

Nelly is definitely creative! Her shop currently has several wonderful handmade bags that I would love to call

my

own. What woman doesn't love a fun bag?



"Estelle Bag" - outoftheboudoir
Isn't that fab?? The autumn colors, the fun print, and the super cute flower pin - it's a gorgeous bag. You KNOW I have a thing for flowers!



I asked Nelly what her favorite thing is to make. "

I like to make things that make life a little more beautiful... I can't say there is something I prefer to make more than anything. I enjoy fabric and things that spark my creativity, that speak to me. I have used cloth napkins to make some of my bags because I found the print irresistible, I'm open to anything!"
"Shopping Cart Handle Cover" - outoftheboudoir

Now this, I must say, is an ingenious idea! Fun, safe, fashionable - what more could a mom want? And just look at that little model... so cute!



Being a small fish in a huge pond can be a challenging thing. In a world where Wal-Mart and mass produces items are king, it's not so easy to sell hand crafted items. But those of us that love what we do plug on, Nelly included. "

The pure joy of creating keeps me going when things are tough! My family and the dream of seeing my vision and goals come to life give me the energy to continue."



"Emalie On the Go Baby/Tote Bag" - outoftheboudoir
Yet another stunning bag here. The colors are cheery and it looks so well made! Any baby would be lucky to have his or her mom carry this... I mean, infants like to look good too, no? I happen to know that some of my readers are a little obsessed with bags, especially diaper bags. Especially

fashionable

diaper bags. You KNOW who you are!

"I strive to always make things with great quality, I want to be proud of everything I make. They come from my heart, they're meant to make those small details not so mundane... why wrap yourself in a "run of the mill" blanket? why not make that blanket a little more special? why not be more playful on the weekend and carry a fun little purse instead of the usual black leather bag? For me, these are reflections of a Life mantra if you will... Let's make every aspect of our life from the physical three dimensional things, to what we do, what we strive for, to our being... meaningful and happy. Let's take nothing and no one for granted, and enjoy our lives in every aspect."

Ah, Nelly, if only you could see my boring, little brown leather purse! *giggle* What a great mantra to live by though. We should all strive as such.

Go check out Nelly's
fabulous
shop, outoftheboudoir. I seriously *heart* everything in it. You can also stop by her lovely blog and say hello!

Thanks for letting me show off your fantastic shop, Nelly, and for sharing from your heart. I wish you lots of luck!