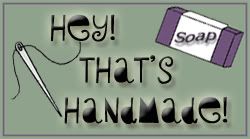 I have recently fallen in love with handmade items. Ok, so I guess it's not so recently that I've fallen in love with them as much as it's recently that I have started buying them more. I am not in love with the Wal-Marts of this world, nor am I in love with their cheap, mass produced items made in sweat shops from who knows where. Especially in light of the current problems that we have been having with mass produced items coming from overseas, I am even more conscious of what I buy and from whom and where it comes.

Being one of the "little guys" in the business world, I've really come to appreciate the work that goes into something you make with your hands. It often takes so much time there is no way you will be repaid what it is truly worth. Because of that, it's so important to love what you do in this kind of business!

In honor of others who share their love with the world by making things with their hands, I have decided to do a feature on my blog around once a week (give or take a few days - HOPEFULLY just a few days - you know me...) about handmade products that I have tried and loved or just found and hope to try and love. When I first came up with this idea, I immediately knew where to turn for ideas... my fellow Etsians! (For those of you new to the handmade community, an "Etsian" is a person who buys and/or sells on Etsy. If you have not yet checked out Etsy, I encourage you to. There are a lot of cool things there - all handmade, supplies, or vintage.)

So, today I am starting out with a cool shop I was just introduced to on Etsy called "Gallery32". Trina holds a BFA from the University of Kansas and takes some really great photos. She sells them along with greeting cards and other such things. She does some really cool special affects with the photos in photoshop (aaaaahh, a woman after my own heart!) and they are definitely worth taking a peek!

Trina says,

"
I have always been interested in phototography. My grandmother bought me my first camera, a Nikromat, at a garage sale when I was 9 years old. It was love at first sight.


Recently I started taking photos to include in my collage. However, I have enjoyed taking the photos so much I have not made many collages.
"
Look at the colors in that.... soo nice. Earthy. Love it!



"
I enjoy taking photos of objects and nature. I am also influenced by the beauty that I find here in Kansas. I like to capture images from a different perspective than we normally look at them . I spend a lot of time on the ground taking photos from below object to see it in a different way. I also use a macro lens to get close up to objects to capture texture and tactile features."

Again, I love the colors. I also love how each photo looks old but still somehow not. They're simple but yet complex... they speak to me! I bet you never imagined a photo of candy could speak to me, but it does. What does it say? "Eat me..." But I bet that a photograph wouldn't taste very good. So it also says, "BUY ME!"

Trina says, "
I have a lot of different cameras that I like to use. My current favorite is my Polaroid EE100. I love the look and the instant gratification you get with this camera.


My favorite technique is Through the Viewfinder, TTV, photography. I ran across this technique on flickr. TTV involves using a digital camera, a twin relflex camera and a cardboard light tube. You put the light tube on the twin reflex, then use the digital cmaera to shoot through the viewfinder of the older camera. I also enjoy doing Polaroid transf
ers."
Christmas Cards - Gallery32
A very cool idea - turning your awesome and unique photographs into cards for the holiday season! And perfect timing too. If you are still in need of some Christmas cards, give these a looksee. They are too cute!

Thank you, Trina for allowing me to feature and interview you! Trina can also be found at her Gallery32 blog. Stop by her Etsy shop and take a look around and don't forget to visit her blog as well to say hello!

So this concludes the first installment of my new "Hey! That's Handmade!" special feature. I hope you enjoyed it and look forward to the next one. I have some neat shops to share with you. Everything from jewelry (*GASP* More jewelry?!) to clothing and from photography to bath & body products... you can find just about anything handmade if you know where to look. I plan to help show you and hopefully welcome you to the wonderful world of handmade!