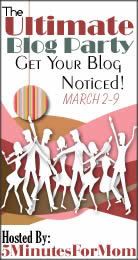 That's right, the
ultimate blog party
has officially begun! Are you coming??
To kick off the celebration, I'd like to welcome to you my blog and tell you a little bit about myself. My name is Crystal, and I'm married to my wonderful husband of 6 years. We have two cute little dogs, and hope to grow our family sometime soon. We live in Texas, and I'm a work at home wife. My mom and I started up a little gig selling artisan jewelry, lovingly designed by us. :o) My mom was in a car accident a few years ago, and has a lot of free time on her hands, and making jewelry has become a way for her to relax and enjoy life. Me? I just like working from home and hope to be able to continue doing it after I have children one of these days.
Our business is named Two Belles & a Bead and we're hoping to get our official website off the ground really soon. Until then, you're more than welcome to
click here and check out our photo gallery!
We have a great inventory right now, and we also do custom pieces. You tell us what you're looking for, and chances are pretty good that we can make it for you and perhaps even beat our competitors' prices. :o)
Other than making jewelry and collecting beads, I enjoy watching movies with my husband, writing music, singing, and tinkering with my blog. I have a billion and one hobbies and am always looking for a new one! I've recently gotten interested in photography and photo editing and hope to someday learn website and graphic design. Who knows if I'll get there. ;o)
In honor of good times and clean fun, I'm thinking of holding a contest here on my blog, for some free jewelry made one of the Two Belles. If there's enough interest, I'll do it for sure. So if you'd like to get a chance to win some free jewelry, leave a comment here and tell me! :o)
It's party time... all week long. So grab a yummy cupcake or two:
put on your dancing shoes, and tell me a little bit about you! :o)
Don't forget to visit
5 Minutes for Mom
, the host of the week long party, and join in the fun. There are a lot of great people to visit, and over 90 prizes up for grabs. Enjoy and party on!